Vänerleden is Sweden's sixth national cycle route
Vänerleden is being inaugurated in 2022 and is the latest of Sweden's national cycle routes. It takes you round Sweden's largest lake and is about 640 km long. The route is divided into four stages that all offer many sights and destinations to visit. If you want to cycle at a relaxed pace, a stage is ideal for a trip spanning 3–4 days.
Around the lake, there are magnificent natural phenomena to explore and great campsites directly by the shoreline. The towns and cities around Lake Vänern have a wealth of culture and many popular attractions to experience. The idea is that it will be just as enjoyable to go on a day's excursion with your family as to treat yourself to a full week's holiday around the lake.
Varied nature
Vänerleden takes you through beautiful and varied nature, in many places close to the water. The surfaces and types of roads also vary; sometimes the route is on separate cycle paths and sometimes on minor roads with low speed limits and traffic. Other sections are on gravel tracks.
Sights and destinationons
The Vänerleden cycle route is the responsibility of Vänersamarbetet, a collaborative association consisting of the municipalities around Lake Vänern. Their common goal is to promote Vänern as a great destination and highlight everything that you can experience by Sweden's largest lake. The joint website lakevanern.se presents tips for various destinations, excursions and activities along the route and elsewhere in the municipalities. For example, you can take a break in your cycle trip to go hiking, hire a canoe or a kayak or go on a boat trip to one of the archipelagos.
In several spots along the route, there are information boards suggesting local attractions. With the help of a smartphone you can also scan QR codes to take you directly to the tourist information pages on the relevant municipality's website and to enable you to download the section of the cycle route directly to your mobile phone's map app. Of course, you can stay for a day or two and explore your surroundings in more detail. With a good range of campsites, youth hostels and hotels, there is something for all preferences and budgets.
Starched hotel sheets or cosy tents
Vänerleden gives you the opportunity to compile your own trip and experiences. If you pack a tent and camping stove, you can stay overnight at one of the many campsites situated along Vänern's shoreline. Or check into a hotel or guesthouse en route and enjoy culinary delicacies and comfortable beds. In the latter case, we recommend that you book in advance to ensure room availability. By eating in cafés and restaurants and sleeping in hotels, you'll only need minimal luggage on your bike ride, which can be a relief on the hottest days of summer. It's a good idea to visit lakevanern.se or local tourism websites to see suggested package deals for accommodation and experiences specially for cyclists. There are also several cycle hire companies around Lake Vänern, from which you can hire a bike for a day or longer if you don't have one of your own.
Destinations along Vänerleden
Here are some of the sights and attractions along or close to Vänerleden.
Sandgrund Lars Lerin: In the heart of Karlstad, you'll find the widely loved artist's own gallery in a former legendary dance palace.
Borgvik: This unique setting with industrial communities from the 1600s contains a restaurant, cosy cafés and shops and the Sliperiet art gallery.
Gamla Staden in Åmål: The old town, Gamla Staden, near the guest marina is home to one of Sweden's best preserved 18th-century environments.
Vänermuseet: In this museum, the whole family can learn more about nature and life around Lake Vänern, and see the fish swimming around in the aquarium.
Halleberg and Hunneberg: Go hiking, canoeing/kayaking or join a game safari at the unique table mountains, which are also royal hunting grounds.
Kinnekulle: Enjoy the fantastic view of Lake Vänern, visit the spectacular Stora Stenbrottet quarry or one of the churches dating from the 1100s. In spring, you can see the well-known wild garlic, also called ramsons, flowering in large numbers on the hillsides.
Sjötorp's area of locks and the Göta Canal: The Göta Canal's gateway to and from Vänern is in Sjötorp, which has a welcoming guest marina bustling with life in summer.
The Picasso sculpture: On the point extending from the shore in Kristinehamn you'll find Pablo Picasso's mighty sculpture, Jacqueline. Its height of 15 metres makes it one of his largest works of art.
Everything for a perfect holiday
If you want to savour sun, swimming and magnificent horizons, you don't need to fly to the crowded Mediterranean. With its vast size, Lake Vänern has a maritime ambience and offers both long, shallow sandy beaches and picturesque rocky bathing spots. If you're looking for an active holiday, there are many outdoor activities to choose from in the Lake Vänern Grand Tour concept.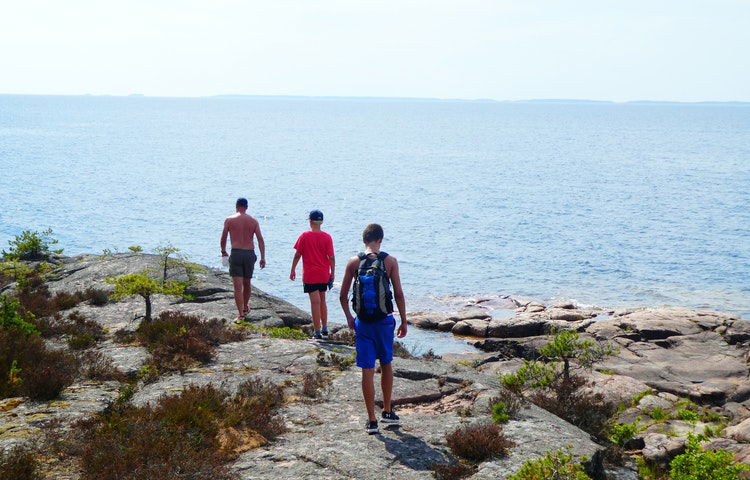 HIKING
Go hiking and walking on beautiful cliffs and rocks, through fantastic forests, up challenging hills and down into tranquil valleys. Alongside Vänern you'll find world-class walking trails for both short and long excursions.
Trails for nature lovers and fitness fans:
» Ytter Bodane, Åmål
» Kycklingleden, Liljedal­, Grums
» Visnums­Kilslederna, Kristinehamn
» Biosfärleden, Kinnekulle­-Götene­-Mariestad-­Lidköping
» Halle & Hunneberg, Vänersborg­-Grästorp
» Segerstad skärgård, Karlstad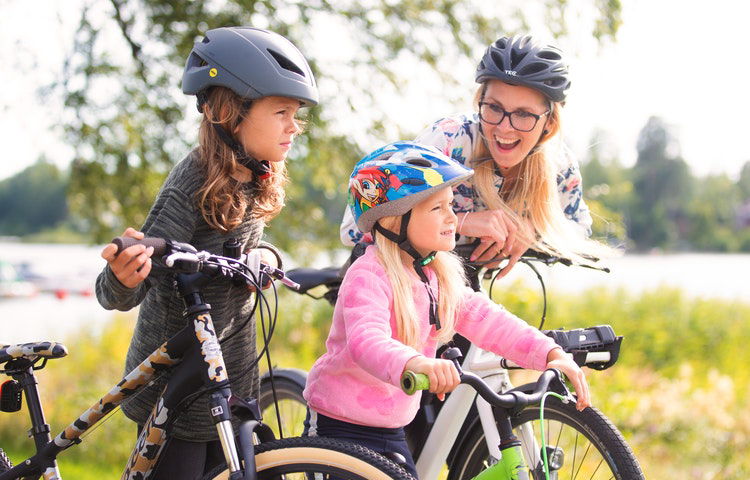 CYCLING
If you don't want to go for it all and cycle the entire Vänerleden route, you can opt for an easier day trip in the local area. Both road cyclists and MTB enthusiasts have many fine excursions to choose from.
Fun cycle routes:
» MTB Bike in Värmlands­lederna, Sörmon­-Karlstad
» MTB Halle & Hunneberg, Vänersborg-­Grästorp
» Biosfärleden Kinnekulle, Götene­-Mariestad-­Lidköping
» Skutbergets mountainbikebana, Karlstad
» Brommö, Mariestad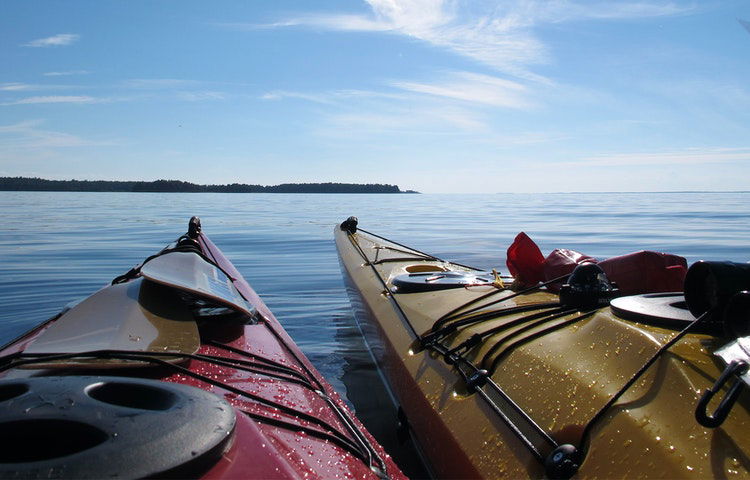 CANOEING AND KAYAKING
Experience the magnificent natural scenery from a kayak or canoe. If you don't have access to equipment of your own, you can hire it along the Vänern coastline. Several of the hire companies also offer guided tours.
Picturesque canoeing and kayaking destinations
» Yttre Bodane och Åmåls skärgård
» Lurö skärgård
» Norra vänerskärgården
» Brommö & Torsö skärgård
» Kållandsö skärgård
You can download canoeing and kayaking maps from lakevanern.se.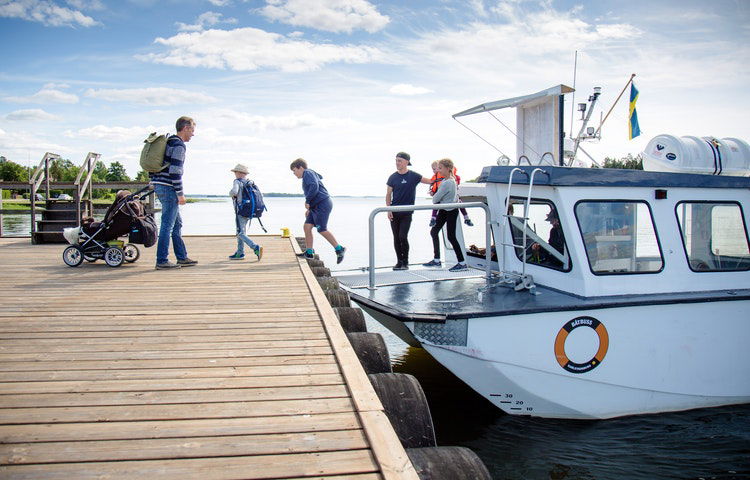 BOATING
Vänern is home to lively guest marinas and fishing communities, beautiful archipelagos with many islands and protected natural harbours. Discover the inland sea in your own boat or join a passenger boat on a guided tour.
Cosy harbours to visit:
» Spikens fiskehamn, Kållandsö
» Lillängshamnen, Hammarö
» Sunnanå hamn, Mellerud
» Städer med mysiga hamnmiljöer: Åmål, Säffle, Karlstad, Kristinehamn, Mariestad, Vänersborg
» Båtbussar, Karlstad-­Grums-­Hammarö­-Kristinehamn