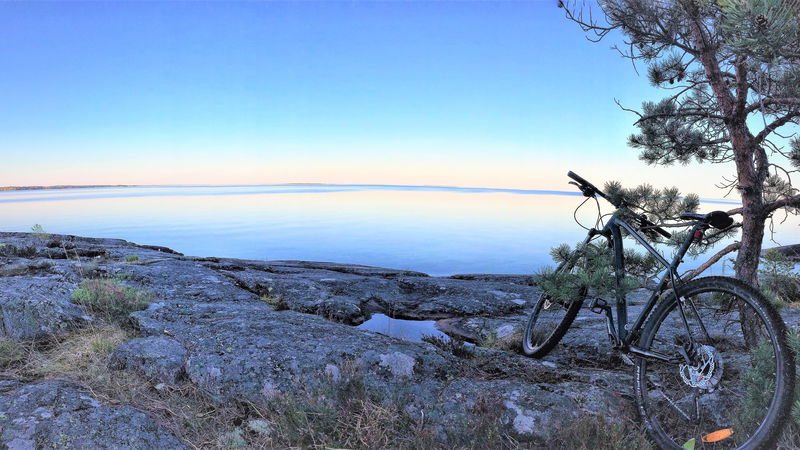 The Vänerleden cycle route is about 640 km long and takes you round Sweden's largest lake. When you cycle on Vänerleden, you will experience beautiful bathing beaches, world-class culture and exciting natural phenomena. One moment, you're cycling through picturesque small towns with a bustling archipelago community, and the next you're on wonderful gravel tracks through deep forests and open landscapes.
As a cyclist you will pass cosy cafés, well-stocked farm shops and restaurants recommended in the White Guide that can satisfy hungry stomachs. Around Lake Vänern, cyclists will ride on separate cycle paths, asphalt roads with a low level of traffic and gravel tracks that wind their way through archipelago scenery, forest landscapes and fertile farmland. Some of the sections are already used as cycle routes, while others are brand new as cycle routes.
The route is divided into four stages, each of which is suitable for a 3-4-day trip with time to take breaks along the way.
North-east stage: Karlstad–Mariestad, 210 km
South-east stage: Mariestad–Vänersborg, 155 km
South-west stage: Vänersborg–Åmål, 149 km
North-west stage: Åmål–Hammarö–Karlstad, 126 km
Below we list some of the things that you can experience on your trip:
Cultural experiences:
The art gallery Sandgrund Lars Lerin, Värmlands Museum, the manor Alsters Herrgård, the art museum Kristinehamns Konstmuseum, the Picasso sculpture, the old Södra Råda church, the old farming museum Särestads Landsbygdsmuseum, the Dalaborg castle ruins, Vänersborgs Museum, old town districts in Mariestad, Lidköping, Kristinehamn and Åmål. The aqueduct in Håverud and the cultural environment Not Quite and the former mill Fengersfors Bruk. Ruins of the former industrial community at Borgvik.
Nature experiences:
The table mountains Kinnekulle, Halleberg and Hunneberg. The terminal moraine Hindens Rev that extends 5 km out into Lake Vänern and the peninsula Hjortens Udde. Several nature reserves such as Kummelön, the Surö beech forest, the Kinnekulle biosphere reserve and the archipelago Vänerskärgården.
The Vänerleden cycle route will be inaugurated on 3 June and will be Sweden's sixth national cycle route. Signage for the route will be erected from May onwards. Until installation of the signs has been completed, route descriptions and maps will be available online here.
North-east stage: Karlstad–Mariestad
Day stages: Karlstad–Kristinehamn
Kristinehamn–Otterbäcken
Otterbäcken–Mariestad
South-east stage: Mariestad–Vänersborg
Day stages: Mariestad–Lidköping
Lidköping-Vänersborg
South-west stage: Vänersborg–Åmål
Day stages: Vänersborg–Dalbergså
Dalbergså-Dalslånged
Dalslånged-Åmål
North-west stage: Åmål–Hammarö–Karlstad
Day stages: Åmål–Säffle
Säffle-Borgvik
Skutberget-Hammarö-Karlstad