Stages
11 Borgvik- Skutberget, Vänerleden
53.7 km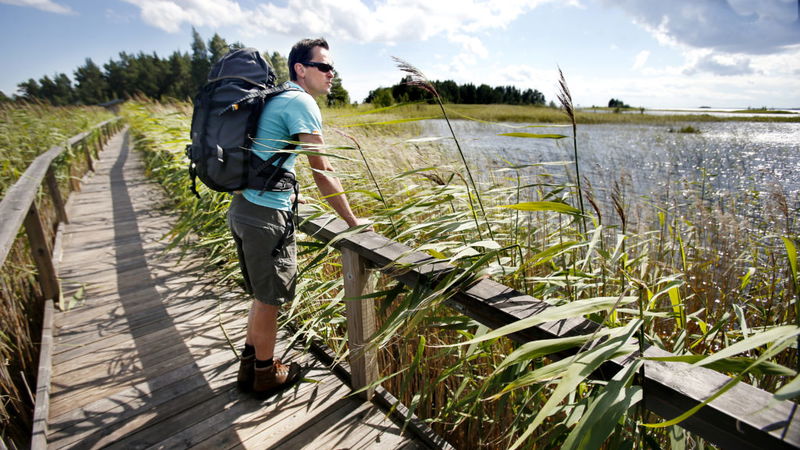 From Borgvik your cycle tour heads towards Karlstad and Skutberget.
Borgvik is one of Värmland's best preserved cultural environments and is a hive of activity in summer. Here, you cycle in an enchantingly picturesque environment steeped in cultural and industrial history. If you stop at the foundry ruins, you can find out more about the former ironworks on this site. By the ruins there are tables and chairs that make this a great spot for a picnic, or you can choose to have lunch or coffee at Sliperiet, Hamncaféet or Kungskvarnen. If you are keen to learn even more about Borgvik's history, Borgviks Museum is open in summer. Public toilets are also available there.
Borgvik – Värmland's best preserved historic industrial environment
During your visit to Borgvik you can go to Oscar Magnusson's art gallery Sliperiet and admire the art and photography exhibitions in the gallery's old industrial environment or savour good food at Sliperiet Gastronomi. Other activities to choose from include booking a visit to graffiti artist Hampus Karlsson, cycling onwards to the guest marina for an ice cream from Borgviks Hamncafé or continuing your bike ride to the eminent Kungskvarnen hotel and restaurant, where you can enjoy a meal or coffee. If you're interested in antiques and retro, don't miss the shop Borgviks Antik och Kuriosa. Accommodation is available at Klaraborg, Kungskvarnen or the campsite by the harbour.
Here, you can also explore Lake Vänern itself by hiring a kayak, Canadian canoe or SUP (stand up paddleboard) from the Vänerkajak company. If you'd prefer walking or hiking, you can take the Lövåsslingan or Bokskogsslingan loop trails.
The section of the route from Borgvik is on asphalted country roads and gravel tracks. Along the way, you can stop at the Kullens Bigård apiary that sells honey and honey-based products. And when you reach Hasseldalen, you can take a break and go for a swim in Lake Långsjön, where you'll also find a jumping tower, a kiosk open in summer and toilets. The cycle route then passes both Skruvstad and Vålberg before heading towards Segerstad.
Segerstad with several farm shops
The route runs through the little village of Segerstad, a rural idyll reminiscent of those depicted in Astrid Lindgren's books. After the village, you will cycle on a lovely country road flanked by fields and meadows and grazing animals. The area is home to Edsbergs Gård Farm with a farm shop and Liljenäs Gård Farm that offers a children's playground and is a perfect place to stop for ice cream and coffee along the way.
Segerstad's nature reserve with beautiful scenery near Vänern
We recommend a detour from the route to explore Segerstad's nature reserve. The area is a much loved recreation and nature area. Boardwalks (which are suitable for wheelchair users) are available that extend out over Vänern as well as several easily accessible wind shelters and toilets.
Skutberget and Bomstad, real gems for camping by Vänern's shore
Skutberget offers a range of facilities for active visitors, such as bathing spots and playgrounds, nature trails, fitness trails, a mountain bike track and a 4-star disc golf (Frisbee golf) course. In the immediate vicinity, you'll also find Högt & Lågt, which is an exciting high obstacle course with various degrees of difficulty to suit the whole family.
If you're looking for overnight accommodation, the First Camp Skutberget campsite has cabins for rent, as well as kayaks, stand up paddleboards (SUP), pedalos and an 18-hole adventure golf course. Or you can choose Swecamp Bomstadbaden with its long shallow sandy beach by Lake Vänern. Here, you can play beach volleyball and adventure golf, and hire a kayak and pedalos. Bomstadbaden also features a wellness area with a Jacuzzi and sauna that you can hire.