Stages
10 Säffle – Borgvik, Vänerleden
39.6 km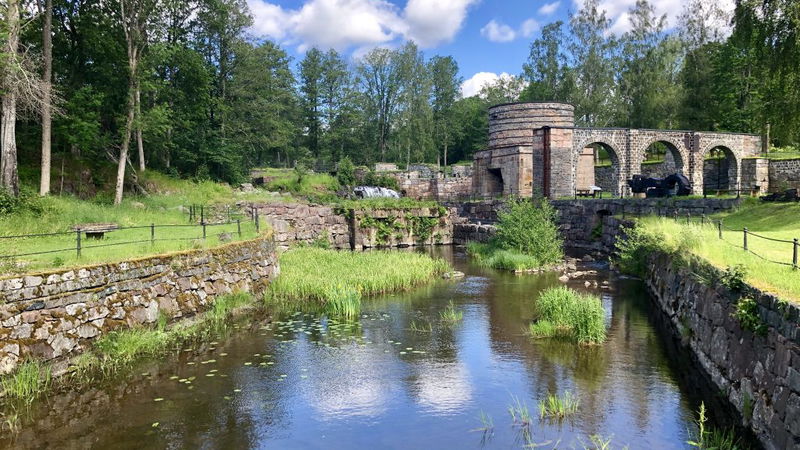 From Säffle, the route continues via Värmlandsbro and Liljedal towards Borgvik, which is one of Värmland's best preserved historic industrial environments.
If you need to stock up on supplies for your trip, Säffle town centre is a perfect place to go. But you can also enjoy the harbour environment, savour lunch at the Stenmagasinet restaurant or fish for zander in the heart of the town; this is one of the best locations for zander fishing in Sweden.
Don't miss the old water tower, Vattentornet, which displays beautiful and thought-provoking art exhibitions in summer. And take a look around, there are several public works of art in the town centre – some are easy to see while others are somewhat harder to spot.
From Säffle to Värmlandsbro, the route runs on cycle paths, in mixed traffic and on compacted gravel tracks as well as on asphalted roads. The route meanders through fertile farmland that displays the good availability of locally cultivated vegetables. Take a break at Huggenäs Kapell, a chapel with a fine bell tower and interesting gravestones. In Värmlandsbro, we recommend stopping at the café and market hall Grön Ko, which serves local produce in the old converted railway station building. (Here, you must first cross road 45 with traffic.)
The distance from Värmlandsbro to Liljedal is about 12 km. This section is very hilly, so make sure that your gears and brakes are in good condition.
Liljedal – cosy archipelago community with a glassworks museum
On arrival in Liljedal, you can turn off down towards the harbour to find Vänerleden's information board about the local area. Here, you will also find a service block with toilets and a shower. In Liljedal, you can take the opportunity to go hiking on the certified trail Kycklingleden, and if you book in advance, you can visit the glassworks museum Liljedals Glasbruksmuseum. The museum showcases exciting glassworks history from 1780 to 1917 and the model used for the well-known Absolut vodka bottle. There is also a work of art in memory of popular Swedish musician Sven-Erik Magnusson. The unstaffed grocery store 24Food is also located here.
After Liljedal, when you continue your bike trip on the Nya Vägen Road towards Grums, you will pass a bridge over Ransundet, which is part of Lake Vänern. Directly after the bridge, take the narrow gravel track that is to your left and follows the water. After about 1 km, you will reach a small marina, where you take the road up to the right that leads to the community of Segmon.
Do you want a little detour for coffee? In Segmon, you'll find Ankans Café och Bistro and the interior design shop Rost och Rustik. You can also cycle onwards to Billeruds Golfklubb and the Sjöskafferiet restaurant. In addition to food and coffee, golf, a driving range and a golf shop, accommodation is also available here in recently renovated rooms or a cabin. About 2.5 km after you have turned off onto the road towards Borgvik, you will reach Grums Fish 'n' Camp. Here, you can go for a swim in Lake Sävsjön, enjoy an ice cream and stay the night in one of the campsite's cabins – or how about in a house boat? Next to the campsite you will also find the Sävsjöleden walking trail.
About 6 km after the campsite, you will glimpse Lake Vänern again – an area called Borgviksjön. When you reach a T junction, turn right towards Borgvik.
Borgvik – Värmland's best preserved historic industrial environment
Borgvik is one of Värmland's best preserved cultural environments and is a hive of activity in summer. Here, you cycle in an enchantingly picturesque environment steeped in cultural and industrial history. If you stop at the foundry ruins, you can find out more about the former ironworks on this site. By the ruins there are tables and chairs that make this a great spot for a picnic, or you can choose to have lunch or coffee at Sliperiet, Hamncaféet or Kungskvarnen. If you are keen to learn even more about Borgvik's history, Borgviks Museum is open in summer. Public toilets are also available there.
During your visit to Borgvik you can go to Oscar Magnusson's art gallery Sliperiet and admire the art and photography exhibitions in the gallery's old industrial environment or savour good food at Sliperiet Gastronomi. Other activities to choose from include booking a visit to graffiti artist Hampus Karlsson, cycling onwards to the guest marina for an ice cream from Borgviks Hamncafé or continuing your bike ride to the eminent Kungskvarnen hotel and restaurant, where you can enjoy a meal or coffee. If you're interested in antiques and retro, don't miss the shop Borgviks Antik och Kuriosa. Accommodation is available at Klaraborg, Kungskvarnen or the campsite by the harbour.
Here, you can also explore Lake Vänern itself by hiring a kayak, Canadian canoe or SUP (stand up paddleboard) from the Vänerkajak company. If you'd prefer walking or hiking, you can take the Lövåsslingan or Bokskogsslingan loop trails.